It's hot…
It's too hot…
Bleurgh…
As we move in December (oh how I wish it was December with this heatwave in the UK right now), the Danish football season winds down to a stop as we undergo our winter break. It's time for all the lads to go hibernate with eggnog until February with our next fixture.
The whole of Danish football goes to sleep until February
We played our last game on 11th December – oh MY that's a long break. 
Whilst actual football might be slim pickings right now, we have played a couple of big games, including our crunch tie against Ludogorets in the Europa League. We also played a couple of league games against Copenhagen and OB, drawing against the former and winning 1-0 against OB.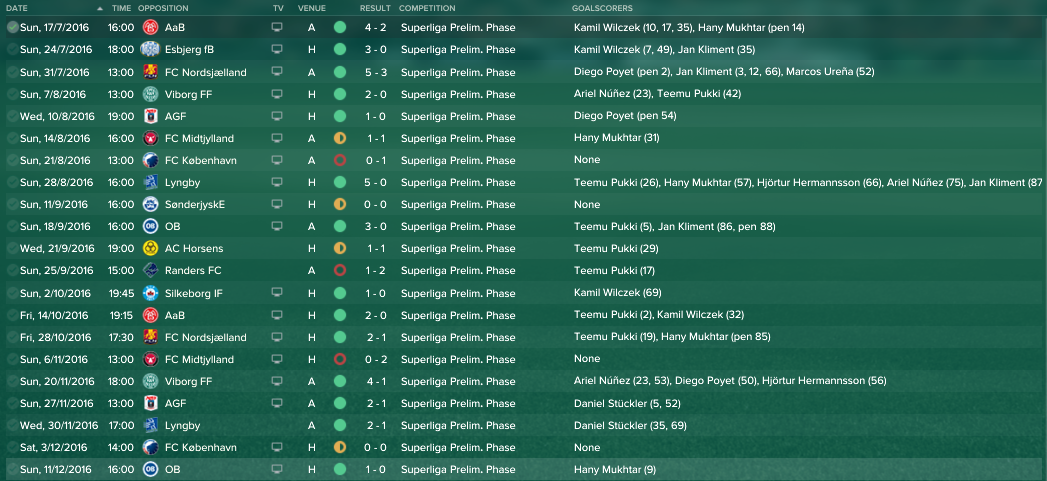 Clearly the lads are on the wind down to Christmas, and I can't blame them. Look at this performance over the 6 months from July. It's obvious it's been coming for a while, but we're still grinding out result after results. I do think that the squad is a bit jaded as we've played a lot of football since the start of this save (36 matches). Recently I've moved the lads to a high closing down style of defending, which might explain the lack of goals and the tiredness.

The league table looks decent right now. AC Horsens have really caught up to Randers and both sides are not that far away from us and Copenhagen. The preliminary phase of the league is almost over and all points carry forward in to the championship phase. With the above statistics we're in good shape for this second stage when it comes in.
The Europa League has also blessed us…

Yep – we made it through to the First Knockout Round of the Europa League in a particularly tricky group! We beat Ludogorets 2-0 in their own back yard to finish second in the group in a particularly pleasing defensive performance. Although they had 15 shots, most of them were from outside the box.
The draw has also been kind to us. Finishing second meant surely we were going to get a tough draw. Would it be Porto,  Inter Milan or Manchester United?
Nope – Olympiakos. You know what? I'll take that. They are definitely beatable  in my eyes, but it's still going to be a tough task. They are our next game in February.
Big signing – Martin Caceres signs on a free
There are a few transfer matters that I also need to update you with. January, of course, brings with it the transfer window and given our form there are a few big clubs sniffing their noses around my lads. Manchester City are interested in goalkeeper Frederik Ronnow (they can do one) and Celtic are interested in striker Teemu Pukki (hmm…), but unfortunately we've had some players agree to leave the BrondbyStadion.
We said goodbye to centre back Martin Albrechtsen. The experienced defender made 8 league appearances this season, but at 36 he's starting to lose his touch. Elfsborg offered me around £13k for his services, which I felt I just couldn't turn down. Left back Yun-Suk-Young has also left the club after his contract expired, but the main departure is that inside forward Andrew Hjulsager. He's agreed to join Rapid Vienna in July on a free because he wants to play in a bigger league – make of that what you will.
The big incoming is Albrechtsen's replacement. We've managed to secure the signing of Uruguayan defender Martin Caceres on a free transfer on a two and a half year deal. Very happy with this bit of business, but it comes at a cost as we are now over budget. I know, I know, I said I wanted to balance the books with this side, but this was too good an opportunity to miss. He should thrive in Danish football, but my main aim is to sell him on for a quick profit. With the World Cup looming in 18 months, Caceres may feel he want to play in a bigger league to ensure his place with the La Celeste in Russia (should they get there!)
Right, that's my update done. Time to set the oven to cold. Later.