As I sit here writing the start of this blog whilst England have scraped a draw against Scotland, I've come to realise that I could not care less about international football, especially friendlies.
What I do care about, however, is my Brondby side. It's times like these where I watch real life football and think "man – I really hope that my sides are not that boring to the neutral". If you're reading this blog about some random mid 20 year old's Football Manager save (which to someone on Love Island might just be the saddest thing possible – but can they take Woking from the Conference to the Champions League in 6 seasons? ) chances are that you watch a great deal of football like myself. And whilst you may claim you love football and want to watch every game, do you ever find yourself getting bored by most of it?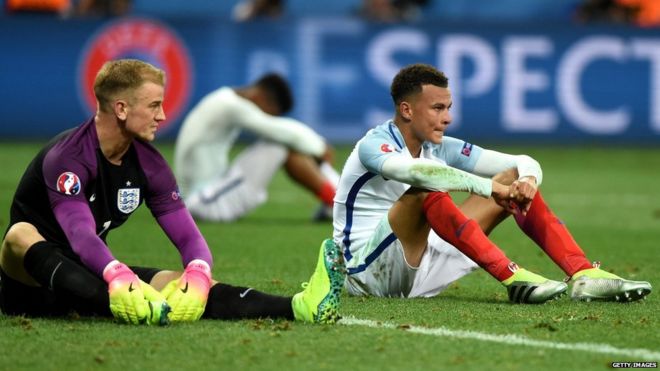 Boring! – England under Hodgson were unimaginative, uninspiring and unable to get past Iceland at Euro 2016
I try and keep England's abysmal performances at Euro 2016 in mind when I approach creating a tactic and assembling a squad on FM. Apart from their side losing, football fans can't think of  nothing worse than paying their hard earned money to watch a dull 0-0  draw. I always want to go out and entertain the crowds, and normally entertaining the crowd goes hand in hand with winning games.
And I like winning games…
Anyway, enough rambling – update time!
General Club News
As at the end of October, we have a few long term injuries to shout about. The only one of these that affects us now is Phillip Billing, whom has been excellent in his loan spell from Huddersfield. He's definitely one that I'd like to bring in to the club permanently as he fits the ethos perfectly – a young quality Danish football – awesome.
Financially, we're smashing it. We've made nearly £7m profit this season, with plenty of cash reserves in the bank. My transfer budget is sitting nicely at £132k, which is fine for now. However, having played through nearly half of the season I've come to the realisation that my squad is absolutely bloated. The first team now has 29 members including 4 loan players which, for me, is about 6 or 7 too many. So, at the end of the year I shall be trying to offload the fringe players where possible.
Will Jacob Bruun Larsen return to Denmark?
That being said, I'm always actively trying to bring in new players, because I get fed up of looking at the same faces every day. There's only so many times you can hear "Morning Gaffer" in Danish from the same player over the course of a season. Whilst I appreciate that the lads are all nice enough and squad morale is at an all time high, we could all use some new blood. At the moment I'm trying to bring in Uruguayan defender Martin Caceres on a free. He's going to cost £20k in wages though, which for us is a huge outlay. We will be losing Martin Albrechtsen in the summer as he's 36, so I need a replacement.#
"But! But! Regista!!! He's not Danish!!! Aren't you trying to sign only-"
Sssssssh – he's a good signing on a free. Deal with it.
I'm also looking at bringing in Jacob Bruun Larsen from Dortmund somehow. We're a bit weak on the left flank outside of Andrew Hjulsager and again Larsen fits the ideal Brondby signing.
Danish Superliga
It's now a two horse race.

It's amazing how Randers have fallen away so hard. They've lost their last three matches, hindering their progress in the league. They seem to be short of goals right now, but I don't care – it's one less team to worry about.
We're keeping up with Copenhagen, having that all important game in hand on them. Throughout the season their form has been up and down like a fiddlers elbow, but it's only now that they've been able to get a run of form.  They are unbeaten in 5 and are looking strong as we come to the end of the preliminary phase.
So what about us? Well… it's been pretty good too be honest. 6 wins from 7 with only the blip against Midtylland stopping us from getting a perfect update. We've still not played well though! Perhaps I'm a perfectionist, but winning 2-1 is not a good scoreline. We're shit at the back, to put it bluntly. We're lucky that most teams in Denmark have bad strikers that can't exploit the holes in our defence. Goalkeeper Frederik Rennow should be pleased with his form though as he's winning us a lot of points.
This has been a bit of a spaced out update again, but recently I've decided to play young striker Daniel Stückler on a wim – and dyou know what? He's done well. Four goals in two games for a 19 year old – is he the Danish Alex Hunter… I mean… Marcus Rashford?
The next league game is a top of the table clash against Copenhagen. Win and we gain the upper hand in the title race. Lose and we're playing catch up with our game in hand. This is not an option.
UEFA Europa League

We've surprised everyone in Europe (including myself) with how well we're doing. The last game is against Ludogorets and we only need a draw to progress. We beat them 2-0 in the first game of the group, but the return game is at their stomping ground. Our only defeat was away to Athletic Bilbao where Aduriz put on an absolute masterclass in finishing as we lost 3-1.
Whether we win, lose or draw, I can be happy with our performances in Europe. Definitely something to build upon from the future.
Final Thoughts
So are we entertaining the fans? Are we living up to the mantra I set out at the start of this blog?
Helllllll N'awww.
We're rubbish to be honest, and lucky to be at the top. I'm not sure how to fix our boring play style yet. My first thought is to really dismantle this side. As we were predicted to finish third, I didn't want to upset the apple cart too much. However, having been here 6 months now I have settle, consumed a lot of Danish bacon and am part of the old furniture at the BrondbyStadion. There will be some severe dismantling of the squad once this season is done as I look to create my own vision for the club.
But despite this, we asked Mr Burns how we're getting on…
See you next time!