Hot off the tail of a decent month in August, we arrive in to the month of September in good spirits. We've got a pretty clean bill of health, the new boys have started to become acquainted with Venice, and we're unbeaten in all competitions so far! Could it continue for the next 5 league games? Read on, fellow FMer.
Serie C/B

It's a pretty pack month in terms of league fixtures. We had five games to contend with, with a nice mixture of home and away ties. No last minute transfer/staff activity – let's get straight down to business.
(3-5-2 WB) Facchin, Cernuto, Malomo, Gentili, Caddis, Garofalo, Fabris, Acquandro (Kiyine '75) , Russotto, Salpingidis (Ferrari '75), Geijo
Our first home game of the season was at home to Reggiana, a team predicted to be fighting for promotion at the end of the season. A good test for us, Reggiana did win their first game of the season 4-0 at home to FeralpiSalo.
We had to make a couple of changes from the last game. I wanted to give some game time to other players in the side, so Alex Geijo came in for the in form Bocalon up front. With Bentivoglio injured, I opted to play Alberto Acquandro in the deep lying playmaker role.
We started off well, and it didn't take long for us to find the net. It seems that crossing is our strength at the moment. A square ball from Acquandro found Fabris on the edge of the box, and in typical fashion he found the back of the net from distance. A bit of a goalazo, that one.
After the first goal it was a pretty quiet affair, until Salpingidis decided to show up. His first goal on the way to a man of the match performance was a nice team goal all the way from the our keeper Facchin. The ball was played on the floor through our defence and midfield, holding possession until it found Russotto in a pocket of space. A switch out to the right flank to Caddis, a cross to the near post to Salpingidis, he tried to find Geijo but his passed was blocked. Salpi decided to hit it instead – 2-0. It's great to see us spreading the play and knocking the ball about with ease.
The third goal was another cross, this time from Garofalo, whom found the Greek striker on the edge of the box. 3-0 after 60 minutes. Game, set and match. Despite this win, we lost Salpingidis to injury for two weeks! He joins Bentivoglio and Pederlozzi on the sidelines as the injuries start piling up!
Just after this match, the board decided to keep transfer revenue retained at 35%. To be honest, this doesn't bother me right now. There's plenty of business to be done in the free transfer market.
(3-5-2 WB) Facchin, Cernuto, Malomo, Gentili, Caddis, Garofalo, Fabris, Acquandro (Kiyine '71) , Russotto, Ferrari, Bocalon (Tumminello '71)
Only one change for our next match, with Niccola Ferrari coming in for the injured Salpingidis. Gubbio had been promoted last season, and had made a decent start by picking up back to back draws.
I feel as if I'm just repeating myself here, but again we dominated from the off and got our rewards just before half time. A cross from Russotto was picked up by Bocalon, with the new signing connecting with a left footed volley that flew in at the near post.
The rest of the match was highly uneventful despite our possession. Ferrari's goal was a carbon copy of most of our other goals this year with a cross from Caddis.
The man between the sticks – keeper Davide Facchin
Venezia 3-0 Ancona (Bocalon '47, Tumminello '77, Stulac '89)
(3-5-2 WB) Facchin, Cernuto, Malomo, Gentili, Caddis, Garofalo, Fabris, Acquandro (Stulac '66) , Russotto (Modolo '88), Ferrari (Tumminello '66), Bocalon
This was a bit of a dull affair, so I'll skip over it quickly. First half – nothing of note. I felt sorry for the fans that turned up for this one, and reminded the boys as such. You might have noticed that I've not made many changes so far, and that's because I want a consistent line up as we mount a title challenge. However, during this game I did feel a little complacency creeping in to the midfield and forwards.
After their half time bollocking, the forwards decided they wanted to play some football, albeit still in the middle third of the pitch (80% of possession occurring there!) Bocaclon scored from a corner, and then we decided to sit back and hit them on the counter. It worked – we picked up two more goals! Tumminello scored his first goal for the club with a lovely little run in behind the Ancona defence, whilst Stulac scored a blinder from the very right corner of the penalty box.
(3-5-2 WB) Facchin, Cernuto, Malomo, Gentili, Caddis, Garofalo, Bentivoglio, Acquandro (Stulac '76) , Russotto, Ferrari (Tumminello '76), Bocalon
Five wins on trot in the league for Lagunari, and this win put us three points clear at the top. Sambenedettese (yeah… I'm not gonna be typing that out anymore) came in to the game in 18th place and were on the back of a losing streak. A win was paramount and expected – and we did not fail to deliver.
Riccardo Bocalon is certainly proving to be a good buy. Many fans were a critical when he signed for Venezia, thinking he was a waste of money at £400k. So far, he's proving them wrong, as he picked up his 4th goal this season within the first 10 minutes of the match. You can probably guess how we built up to the first goal…
…However, we scored a second goal in a completely different manner! (well, sort of). Our opponents had a free kick sent in to the box that was cleared by Caddis. His clearance found Bocalon on the half way line, completely unmarked. As he progressed towards the box he was forced out wide by a defender, but was given enough time to pick out the advancing Andrea Russotto, and on the half volley Russotto lashed it home to make it 2-0. Misery Compiler.
This match saw the return of Bentivoglio after his injury, and he missed a good chance just on the stroke of half time after being slipped through by Russotto.
Eventually though, Sambenedettese did claw one back. Whilst we might be adept at getting on the end of corners and crosses, we're not so good at defending them. Perhaps its because I've played the same three centre backs in every game, but it was very uncharacteristic of us. Although we managed to clear a corner from the opposition, the ball fell to Baumgartner, and from 25 yards he hit a vicious shot pas Facchin. Potentially goal of the month for the lad – fair play.
Almost a perfect month for us – could we make it a perfect month?
Riccardo Bocalon has 5 goals in 6 games.
No.
(3-5-2 WB) Facchin, Cernuto, Malomo, Gentili (Zampano '69), Caddis, Garofalo, Kiyine, Acquandro (Stulac '67) , Russotto, Salpingidis (Ferrari '67), Bocalon
A very even game, but in the end ill-discipline cost us. Just look at the number of yellow cards that we got, which is especially worrying considering we were the home team. I've felt like a bit of complacency has been coming in to the team recently, and I hope that this result will bring the team back down with a bump.
Fano were mid table at the start of this game, with 3 draws in their last 5. I expected a fair easy win here, but we lost both Bentivoglio (again) to a twisted knee and Modolo with a muscle strain just days before the game. Both were out for 10-13 days. I didn't think it was too much of a problem though, Modolo is a fringe player right now and we've gotten results with other central midfielders.
I opted to give on loan Kiyine a start, as he has been impressing in training. Salpingidis was also fit enough to return to the starting line up. We were ready to go, or so I thought.
The first half was an abomination. Fano had obviously scouted us out, and Davide Facchin had to dig us out of trouble a couple of times. We did not help ourselves either – 4 yellow cards were picked up across our midfield and defence in the first half. All the signs of a team brimming with over-confidence.
After the interval (during which I gave the team another bollocking), things were still the same. Fano managed to take advantage of our poor defending with a long ball over the top towards Germinale and, despite the best efforts of Facchin, he scored at the near post. Although we replied immediately through Bocalon's 5th goal of the season, Paul Caddis picked up his second yellow card in the 69th minute.
We had to switch formations. I swapped out Gentili for Zampano, and went to a back four. Alas, it wasn't to be as Germinale picked up on a loose cross in to the box just 10 minutes or so before the end of the match. A poor performance from the team, and I've let the lads know about it.

Despite the defeat, we still maintain our 3 point lead over Reggiana at the top of Serie C/B, but the unbeaten season has gone now. It's a good position to be in, but let's not get carried away in this early stage.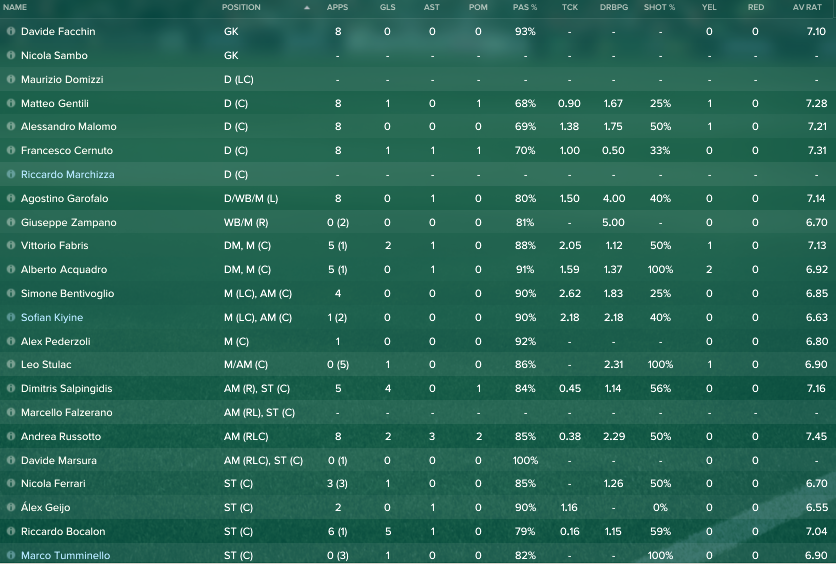 It's no secret that Bocalon and Salpingidis have been the stars of the team so far, picking up 9 goals between them throughout the season. However, the best performing player has been attacking midfielder Andrea Russotto. It's pleasing to see all of my signings performing so well so early on. We'll need to build up as big a lead as we can.
Well I guess that's it for September 2016. A pretty dull month, sure, but this month could well be the foundation of any success we have this year. Next time, in October, we've got another 5 league games, taking on the legendary Parma and unbeaten side Forli. We will also continue our Serie C cup adventure as we enter the first round proper.
Until then! Be champions