Howdo boys and girls, and welcome back to another installment of A Venecian Renaissance. This time, we look at the events of August 2016. Our first month went very well, going unbeaten in all of our pre season friendlies that month. I made a few changes to tactics, along with bringing in some new faces, but would these guys gel in time for the league campaign? Read on for how we got on in August.
Transfers
Unfortunately, I've had no success in getting rid of a couple of members of the squad that are deadwood. Although as I write this the transfer window is still open, I don't have much hope in shifting them out. The players in question are midfielder Matteo Marcolini and goalkeeper Nicola Sambo. We are blessed to have a number of excellent central midfield options, and at a 1.5* rating Marcolini is just not good enough, whilst Sambo (despite only being 20) will not provide any real competition in the goalkeeping department.
We've made three signings on loan in August! These lads all come from Serie A sides, all of whom are looking to get some first team football experience. We've had a mini "raid" on Roma, picking up defender Riccardo Marchizza and striker Marco Tumminello, and also signed Chievo's young midfielder Sofian Kiyine. All three players have immense potential, and provide different options for us over the course of the season.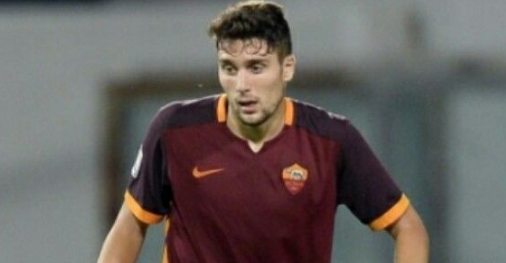 Highly rated Roma defender Riccardo Marchizza joins us for a year long loan
Serie C Cup
August in Italy sees the start of the Serie C Cup, featuring exclusively sides in Serie C. Featuring a round-robin format for the first round, only the top side in each of the 11 groups in the group stage will progress through. The draw put us up against Giana Erminio of Serie C/A (predicted to finish mid-table), and Mantova from our division (also predicted to finish in the middle of the pack).
In the first game of the group, Giana Erminio picked up a surprise away win against Mantova, with Ghanaian winger Samuel Appiah notching up an impressive hattrick. Our first match was against Mantova, and the lads went in to the game knowing a win would put us in a good position going in to the final game.
Venezia 2 – 1 Mantova (Fabris '68, Salpingidis '74 / Ciccone '82)
(3-5-2 WB) Facchin, Cernuto, Malomo, Gentili, Caddis, Garofalo, Pederzoli (Fabris '18), Bentivoglio, Russotto, Salpingidis, Geijo (Bocalon '65)
A nice victory to begin the season with, although things started off with a bit of a scare. We went into the match with our new 3-5-2 wing back system, and the lads weren't too keen on it to begin with. Mantova started off well, Rocco Sabato going close with a free kick close to goal. Alex Pederzoli, whom I expect to build the team around this season, went off injured after 18 minutes, leading to Fabris coming on in the first 20 minutes. Following this substitution, we started to play some football, piling forward with our wingbacks and winning corners and free kicks.
Pulling the strings – Andrea Russotto in the AMC position
It wasn't until the second half that we made anything meaningful for ourselves. I pushed the defence up a little to become an option for our midfielders to retain possession, and it seemed to work. Eventually, it all led to a nice move involving Fabris, Russotto and Cernuto spreading the play across the box, with eventually left wingback Garofalo crossing from the byline to the edge of the box to Fabris whom tucked it home to put us 1-0 up.
Salpingidis then popped up with a goal virtually out of nothing, with the Mantova defence heading out a regulation cross with ease. The ball fell to Russotto, whom had pulled the strings all game today. He chipped a ball over to Salpi, and with a left footed volley scored his first goal for Venezia. Mantova then pushed forward, and on the 82nd minute they pulled one back with Ciccone as our defence still had a high line and was pushing forward. Not to worry though, we rectified it and held on to win 2-1.
With that, it went in to a head to head against Giana Erminio for the right to progress to the next round…
Giana Erminio 0 – 2 Venezia (Salpingidis '2, Gentili '9)
(3-5-2 WB) Facchin, Cernuto, Malomo, Gentili, Caddis (Zampano '75), Garofalo, Fabris (Stulac '75), Bentivoglio, Russotto (Masura '81), Salpingidis, Bocalon
Despite the scoreline, this was a bit of a dull game! A bit of an early smash and grab, with both goals scored in the first 10 minutes, we progressed through to the next round of the Serie C Cup with a 100% record.
Despite Erminio having kick off, we won the ball back with our 3 man defence, carefully building the ball through the middle of the park (including the pushed up defensive line). Garofalo found Fabris in the inside left channel, and switched the ball over to Russotto via Bocalon, making his first start for the club. Russotto found Fabris, whom found Salpingidis, and with a second volley picked up his second goal of the season in as many games. What a start for the Greek forward!
Our second goal was nothing special, but pleasing to see that we can take advantage of set pieces. We really should be making the most of what we can get when we play 3 tall centre backs, and it was a very simple but effective corner routine. Garofalo swung in the corner, met by the head of Gentili – 2-0 to Lagunari!
2 in 2 for Salpi – a great start to life in Venice!
There was nothing else to note from this match, but we picked up 15 fouls in the match! We were the away side to be fair, but still not something that I want to see on a regular basis.
This left us top of the pile after all three matches were played – job done. The board aren't bothered how we do in this competition, but I can't see them complaining if we deliver a double to them come May.

Serie C/B
We did actually begin our league campaign in August, with an away match at Santarcangelo to start things off. Our opponents are potential relegation candidates this season, so it was important for us to start off with a victory.
Santarcangelo 1 – 4 Venezia (Cori '48 / Caddis pen '17, Bocalon '21, Russotto '30, Cernuto '84)
(3-5-2 WB) Facchin, Cernuto, Malomo, Gentili, Caddis, Garofalo, Fabris, Bentivoglio (Acquadro '74) , Russotto (Stulac '88), Salpingidis (Ferrari '74), Bocalon
Despite being the away side, we dominated Santarcangelo (a bit of a mouthful, that one) from the first minute. I was quite surprised by our opponents formation set up as I felt it left them lacking on the flanks, allowing us to draw the centre backs out wide and swing crosses in for Bocalon and Salpi.
Paul Caddis started off very well at right wing back, skipping down the right flank with relative ease as his marker was nowhere to be found time and time again. We showed our prowess from set pieces again, with Russotto and Fabris going close in the first 15 minutes from a corner.
Eventually the breakthrough came from the penalty spot. Santarcangelo defender Gatto pushed over Malomo in the box from a free kick. Caddis stepped up and buried the ball down the middle. 1-0 to Lagunari.
We then turned up the heat, with Caddis once again getting involved in the action. Fabris, dictating the play from central midfield, found the Scot on the flank with a searching ball again, and with a lovely ball in to the box found Bocalon, whom scored his first goal of season. Two goals in four minutes, wham, bamm, thank you ma'am.
Then again, on 30 minutes, it was Fabris and Caddis linking up with Russotto, exchanging passes in the right sided channel. Russotto, from around 23 yards, picked his spot and shot past the Santarcangelo keeper Nardi. 3-0 in 30 minutes – game over?
Paul Caddis is in fine form
We went in to the break on a high, but as ever our opponents struck back almost immediately after the interval. Although we're decent from set pieces, we need to step up and prevent them. We gave away a free kick on the right side of our box, and with the ball bobbling around we couldn't clear our lines. Eventually Cori scored to make things interesting. Was the comeback on for the home team?
Well… no. Young centre half Francesco Cernuto stepped up to take a free kick on the 84th minute, and despite the keeper getting a hand to it found the top corner of net. Game over.
We did lost central midfielder Simone Bentivoglio to injury on the 75th minute, but its not a serious problem and he should be back in time for our next game in September.
This result put us 3rd in the league, but as only 1 game has been played, there's no need to show the league table right now!
So that's everything for August 2016! Please let me know if you are enjoying the match report style updates, and the monthly updates in general. I feel it's a lot easier to play and update in this manner and would like to keep doing so. If you enjoyed the series so far, let me know in the comments below!

September is a busy month with 5 league games coming up. I think we can take 15 points from these games, and anything less than 12 would be poor. Can we do it? Follow the blog to be the first to see the next installment! Until then, be champions!