I mentioned in my Identity and Ethos blog with Brondby that with a fallen giant that it's important to establish a new identity when they re-enter the footballing mainstream. A team that has achieved the level of success on the continent like Brondby will have a history and impression that they will have left long on the memory of many a fan.
With a team such as Venezia that have not seen success in such a long time, or have never seen any major trophy win, there comes a sense of freedom when trying to establish the club in the top flight domestically and worldwide. We've seen managers such as Eddie Howe and Tony Pulis make their careers by bringing a team through the divisions by implementing their vision into a club and making that club synonymous with that type of football. When you think of Stoke, you think of a long ball, physical game, and sometimes that "tag" can be hard to get rid of.
Eddie How has made a name for himself with Bournemouth, establishing the club's identity in the process
Currently in real life, Filippo Inzaghi is trying to do the same thing. Still a young manager, Pippo is trying to build a name for himself as a master tactician after an unsuccessful spell in charge of I Rossoneri. Inzaghi adopts an aggressive style of play, and this season it has worked, with Lagunari promoted back to Serie B for the first time since 2004/05.
So, what does this have to do with my Venezia side? Well, with Venice being the city of love, I want to build Venezia up to be everyone's second favourite club (unless, of course, you support Venezia!) Calcio is a sexy way of describing football, but Italian football is generally seen as defensive, boring, unimaginative  (despite being successful). By playing this "sexy calcio", i.e football with character, creativity, flair, vision, ingenuity and passion,  I believe that I can change the perception of the Italian game. Many neutral fans will speak of how they loved Leicester City winning the 2015/16 Premier League, or the way that the Brazil 1970 side won the World Cup, and we will do our best to echo such compliments.
Leicester City won many neutral fans with their play style en route to the 2015/16 Premier League crown
So that's my vision all set out. In game, this will translate to attacking football, free flowing, free roaming, played on the floor, the way the game was meant to be played. However, this isn't going to be easy to implement immediately. As I mentioned in my previous update, the Venezia squad has a number of target men that I can't see fitting in to my ethos. We should be able to attract players of a good quality in the future – after all they'd be living and working in the beautiful floating city of Venice (I expect the WAGs will be happy!)
But what do my employers think? And what do they want?

Nice one. Complete free reign to forge my own path and destiny with Lagunari, In time I will set up some philosophies, but first we need to get the club back up the divisions in Italy.
There won't be any restrictions on players in this save. We will sign anyone that I believe will fit our system. As long as they've got plenty of flair and passion for the game, they'll be welcome at the Pierluigi Prenzo stadium.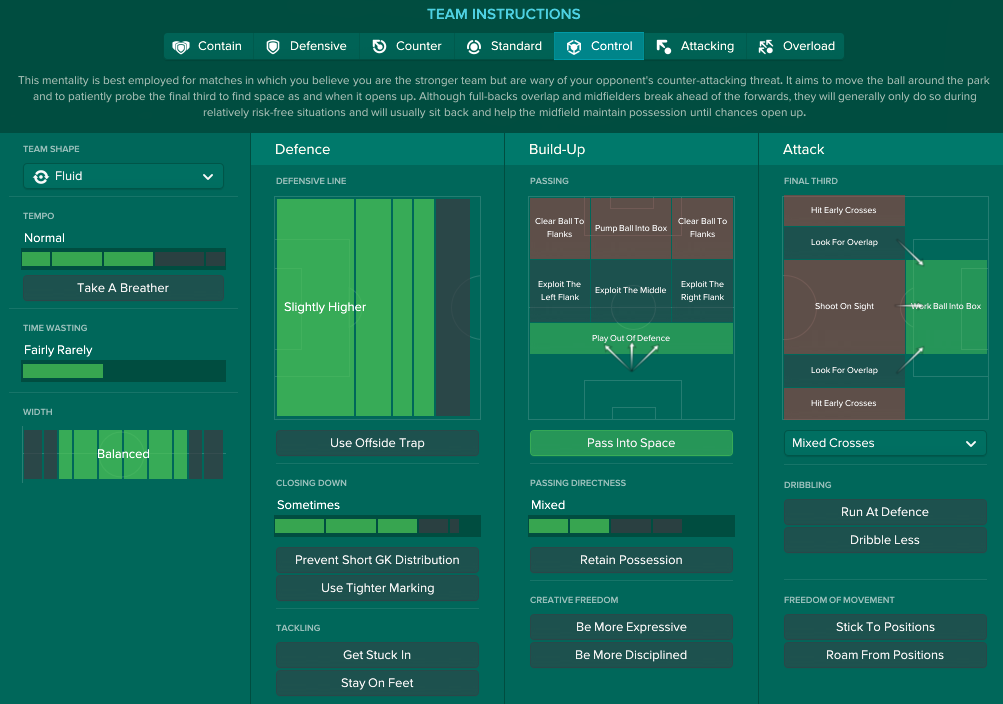 The exact same system that I was going to play with Brondby will be used with Venezia as I did not get a chance to try this set up out. To quote my previous blog:
"A fluid, control style will be our starting point. The idea is that I want the team to play with some risk, but not to over commit going forward. I want the team to play with creative freedom, so have tried not cloud the team with too many instructions."
The above team instructions will change with time until we settle on a set up that allows us to achieve the ideal style of play, but for now I just want to keep it simple.
With that said, my next post will have a quick look at finances and the facilities available in Venice, before cracking on to monthly updates about how we're getting on. I hope that you enjoyed this post on my vision with Venezia – we gonna bring sexy back.
 #sexycalcio