What's up guys, and welcome back to a new save on FM17!
I can only apologise for my Brondby save not sticking. Due to various factors, the save became very stop-start and I was unable to keep any continuity going. If you're reading this blog, you've probably gone through similar feelings yourself – whereby you just can't get back in to a save after a brief period away from the game, and even when you try and try it just doesn't stick. That's what has happened to my Brondby save, but I've parked it until FM18 rolls around.
So, why Venezia? Well, if you've been following my twitter (@registafm #plug), you will have seen that I ran a poll for which team of two I should manage. Venezia won with around 75% of the vote, and so here we are. I've also got prior experience of managing Venezia in previous FM's, and I'm off on holiday there in the summer. Also Italian football could use a bit of a resurgence in it's reputation, as it has fallen behind it's glamourous counterparts in England, Spain and Germany.
Also, at the time of writing, Venezia have just been promoted back to Serie B. Their current manager is the man born in the offside position – Pippo Inzaghi. My task is to replicate his success, and take the club on further.
Imparting his wisdom – Inzaghi is the current manager at Lagunari
So, enough set up, let's look at the history of Venezia.
Venezia – A History
Back in 1907, a merger of two sports clubs named Palestra Marziale and Costantino Reyer resulted in a new club to be formed named Venezia Foot Ball Club. Based in the Campo San Bartolomeo region of Venice, the club maintained this name until it was translated in to Italian in 1919.
Under the new moniker of Associazione Calcio Venezia, the club won it's only major honour in 1941, capturing the Coppa Italia. The victorious team included players that moved to Torino and were subsequently involved in the Superga air disaster in 1949, including Valentino Mazzola. The following year, the club took 3rd in Serie A, the highest league position the club has to date.
Paving the way – Valentino Mazzola
Since the Coppa Italia triumph, the club has fluctuated between Serie A and B, and in 1990, the club added it's founding year of 1907 to the end of the official club name. The most recent relegation from Serie A occurred in 2002, and the club has not recovered since. This is in part due to the then President of the club – Maurizio Zamparini – purchasing Palermo and taking most of the playing staff with him. As a result, the original club was declared insolvent, and thus ceased to exist.
2005 saw the birth of a new team, named Società Sportiva Calcio Venezia, joining the Italian football league in the then Serie C2. Financial troubles still lingered over the club, and as such the club was declared bankrupt four years later.
A second attempt at restoring the club was made, named Football Club Unione Venezia, and took part in the 2011-12 Serie D, gaining promotion in the same season. Whilst the club achieved success on the field, it still could not manage it's finances off of it. Once again, the club was declared bankrupt, and was refounded for third time in 2015 as Venezia FC.
The club has now achieved successive promotions in back to back seasons, and will now play in the 2017-2018 Serie B.
Venezia – Initial Thoughts
The squad that I have inherited is quite large – much larger than I was expecting. It looks like that we've got plenty of cover in all areas of the field. Doesn't look like I need to tinker with the team too much.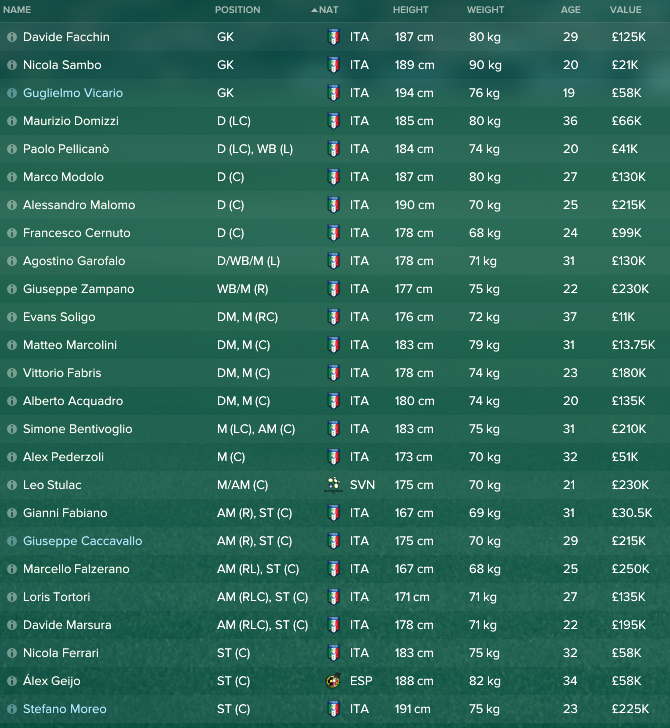 This update would take forever if I went through every player, but having a quick runthrough of the player report suggests that the coaches think that we've got a good bunch at the club. I'll take this opportunity to run through a few players, but there are so many that could easily take centre stage.
Experienced defender Maurizio Domizzi has joined from Udinese in the summer, which surprises me a bit. Domizzi has plenty of experience in Serie A with his time at Udinese and Napoli. Easily a first team player, dropping down two divisions is a big decision for the 36 year old, and one that he will want to make sure he justifies.
Giueseppe Zampano is a 22 year old winger that has also joined Venezia in summer 2016 from Crotone. I feel that Zampano will fit in the system that I have in mind for my Venezia side, particularly in a wing back role. His physical attributes are particularly impressive (including 20 natural fitness!) and will suit my playstyle very well.
In central midfield, Simone Bentivoglio, Leo Stulac and Alex Pederzoli will all compete for the starting positions. All three lads have also joined the club in the summer (what is with the influx of players in the summer?!) Each player looks to be a playmaker type, which we'll need, but one of the lads could be surplus to requirements. Stulac has the advantage of being the youngest of the three, so he might be the man to build the team around.
Up top, the main man is Spanish striker Alex Geijo. A useful target man, Geijo will get goals with his good finishing and determination to get to the ball. However, when looking at strikers currently at the club, we've only got target men to choose from. This at least gives me one area to have a look at in the transfer market.
So that's all for this first instalment! My next post will speak about the identity I want to have with this Venezia side, along with looking at finance and the facilities that are in place. I want to update on a monthly basis, and as someone that enjoys rags to riches saves, I've got more impetus to play with this side and take them to the top. Italian football needs a new powerhouse – it's time for the rise of the Lagunari!