At last, the first monthly update!
Yours truly took over the reigns at Brøndby on June 25th 2016, full of vim and vigour and ready to take Danish football by storm. In game, I'm a 26 year old English manager, set with automatic reputation, with no adjustment to my attributes (I just wanted to get cracking) My appointment was greeted with some surprise, but the chairman assured me that I was the right man for the job. Touch.
So what did we get up to in my first month in charge? Firstly, I needed to establish some tactical identify for my first season. Note that this isn't how I envision us playing 3 or 4 years down the line, but to get me settled in to Danish football I opted to play safe.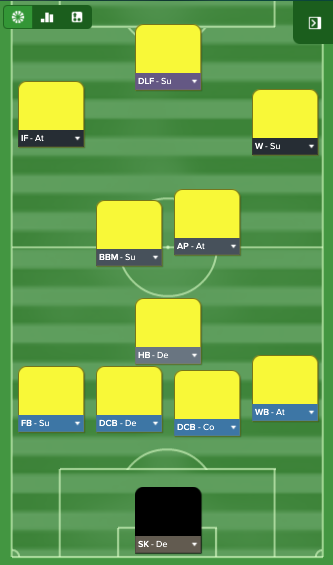 Nothing too fancy, or ground breaking. I've opted to use these as my team instructions too. I'm not looking to over-complicate things right now. I can go in to further detail behind this tactic if you wish, but it's not particularly exciting and I'd rather just get on to the football. It's quite easy to see the idea though – use the wide areas to attack, and bring the two CM's in to play once the ball is up the field.
I've got the lads training on team cohesion to begin with as I believe it's important to get the team to gel together as fast as possible. Training isn't something that I don't particularly enjoy early on, so I've allowed my assistant – Tamas Bodog (what a name!) – to assign individual training.
Transfer Business
Now, if you read my last update on the squad review, you'd know that I thought we lacked a little bit in left back and central midfield. The board was gracious enough to give a brand new manager £135k to play with in the transfer market, with £155k wage budget to entice new players.

These areas were addressed through the signing of midfielder Diego Poyet and left back Frederik Møller.
I'm quite pleased by the signing of Frederik Møller. He's the first in (hopefully) a long line of Danish players to develop under my leadership. Costing £170k from fellow Superliga side AC Horsens and signing a 2 year deal, he was the best Danish left back that I was able to procure. He's exactly what I want in a left back and fits the ethic I need – pacy, hardworking and good technical ability. At 23, he's got a long career ahead of him, and could easily become a full Danish international in the near future.
Everyone knows about Diego Poyet, so I won't elaborate on him too much. I want him to be first choice in the half back role as shown above. I can't see Diego staying long term though, but having signed him on a free we'll make a profit on his eventual sale. As a result, I thought this was smart business. He signs on a 3 year deal.
We've also made a couple of loan signings to help fill out the squad. Centre back Unai Bilbao joins on a 1 year loan from Athletic Bilbao, whilst 20 year old Danish midfielder Philip Billing also signs up for a year long loan. Billing is someone that I would like to bring to the club on a permanent basis, however his transfer fee might prove a stumbling block as he's currently valued at £850k.
New boy in midfield – Diego Poyet signs on a free
Fixtures
Out of the freezer and in to the fryer – no grace period for me as it's straight to work with important matches in my first month.

Now it's been a while since I played these matches, so my memory is a little bit hazy. For now, I'll just summarise what happened. As you can see, almost a perfect first month to my Brøndby career.
Friendly matches include a friendly match against Naestved, whom were calmly dispatched 4-0 the day of my appointment.  We were also entered in to a friendly cup tournament with Standard Liege, Paris St Germain and German rivals from years gone by Karlsruhe. Whilst we surprisingly beat Standard Liege 3-1, PSG were too much for us in the end. However, given being a new manager and the quality of opposition, I thought we did reasonably well. I don't read too much in to these results, but it's nice to see that we can beat some decent teams.
Double Hat-trick Hero – Wilczek has scored two hat-tricks in July 2016
The main competition this month was the Europa League. Brøndby finished 4th in the 15/16 season, thus permitting the club to enter the Europa League at the first qualifying stages. My target for this competition is to reach the Group Stages, but European football isn't at the top of my list of priorities this year.
FC Sileks of Macedonia were my first competitive opposition, and were calmly dispatched 5-1 on aggregate without anything notable happening. St Patrick's Athetlic of Ireland were next in the second round. Our trip to Ireland was frustrating, putting only 2 of 10 attempts on target, until midfielder Ariel Nunez stepped up…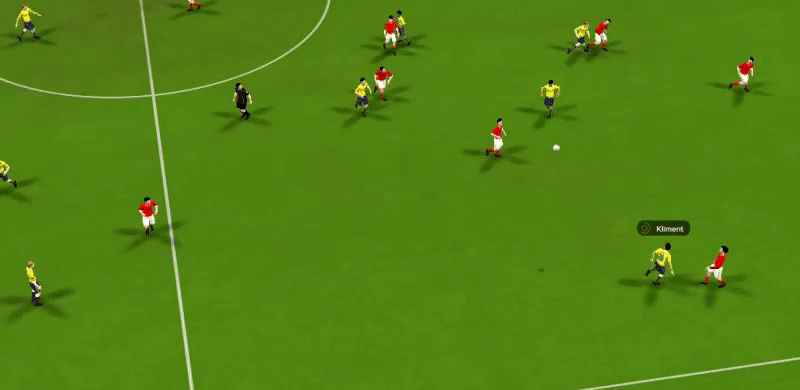 The reverse fixture was a much more comfortable affair – 4-0 winners with Kamil Wilczek scoring a hat-trick inside 51 minutes. We've been drawn against Rio Ave of Portugal in the third round, and whilst we ran out 3-1 winners in the first leg, the away goal has me worried.
Finally, we have the league kicking off. This is the earliest I've had a league campaign kick off in a long time on FM, but it hasn't affected me one bit. 3 wins from 3 games, with Kamil Wilczek scoring 5 goals in 3 games including another hat-trick against AaB. Winger Jan Kliment also picked up a hattrick against Nordsjaelland in a 5-3 win.

This leaves the current Superliga table looking like this. We're two points clear of Randers, and four points clear of FC Copenhagen (whom have drawn 2 of their first 3 games). We're looking over our shoulders at the rest of the league right now, but I'm sure that Copenhagen will be breathing down our necks very soon. This is only the Preliminary phase of the competition, but we need to get every point we can as they carry on through to the Championship phase.
So that's everything for July 2016. I'm looking to update on a monthly basis in game now. Next up will be August 2016. Can we continue our good form and also qualify for the Europa League? A lot of football will need to be played, and we have a busy schedule if we can get past Rio Ave.

You'll have to follow the blog until the next update comes out. Should be out within the next week. Hope you enjoyed my first monthly update and I will see you next time.