It's finally here! After far too long, I've finally gotten round to writing this post. Sorry it's taken so long – but real life issues along with a self imposed FM break have refreshed and revitalised my love for the game.
At the heart of any club is it's playing staff. It's all well and good talking about the vision of the club, the finances and how I intend to play, but it's down to the lads on the pitch to make it all come to life. Players come in all shapes and sizes, with different attributes and personalities, and it's important that each and every single one of them feels a part of the squad, and also maintains the most professional manner they can on and off the field (no biting other players/tax evasion schemes/promiscuous scandals here).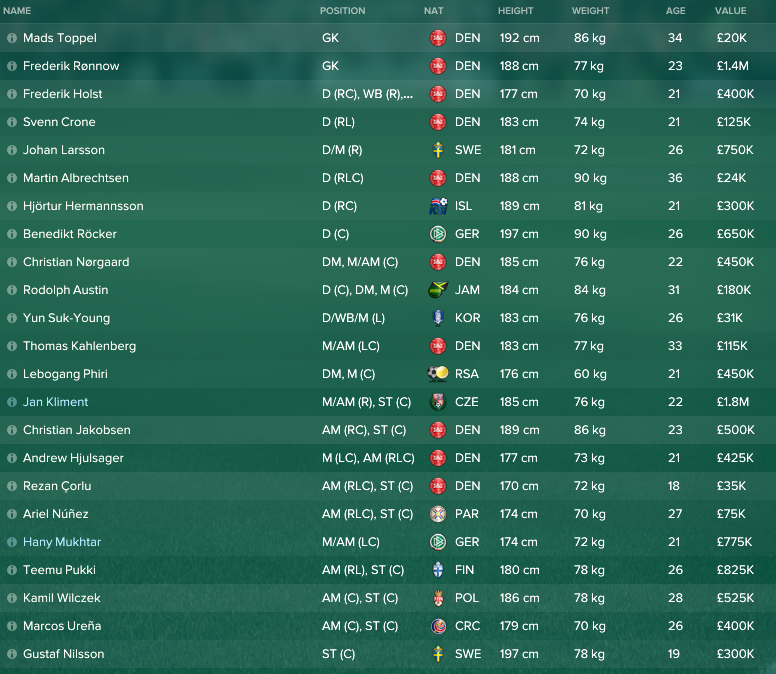 Looks like we've got a decent bunch of players here! There's a nice mix between youth and experience at Brondby, along with good versatility. However I'm disappointed by the lack of experienced Danish players in the team. As I alluded to in an earlier blog post, I want to bring through young Danish talent at the club, so looking to the youth setup will be important. That being said, we've got a fairly young team, with an average age of 25.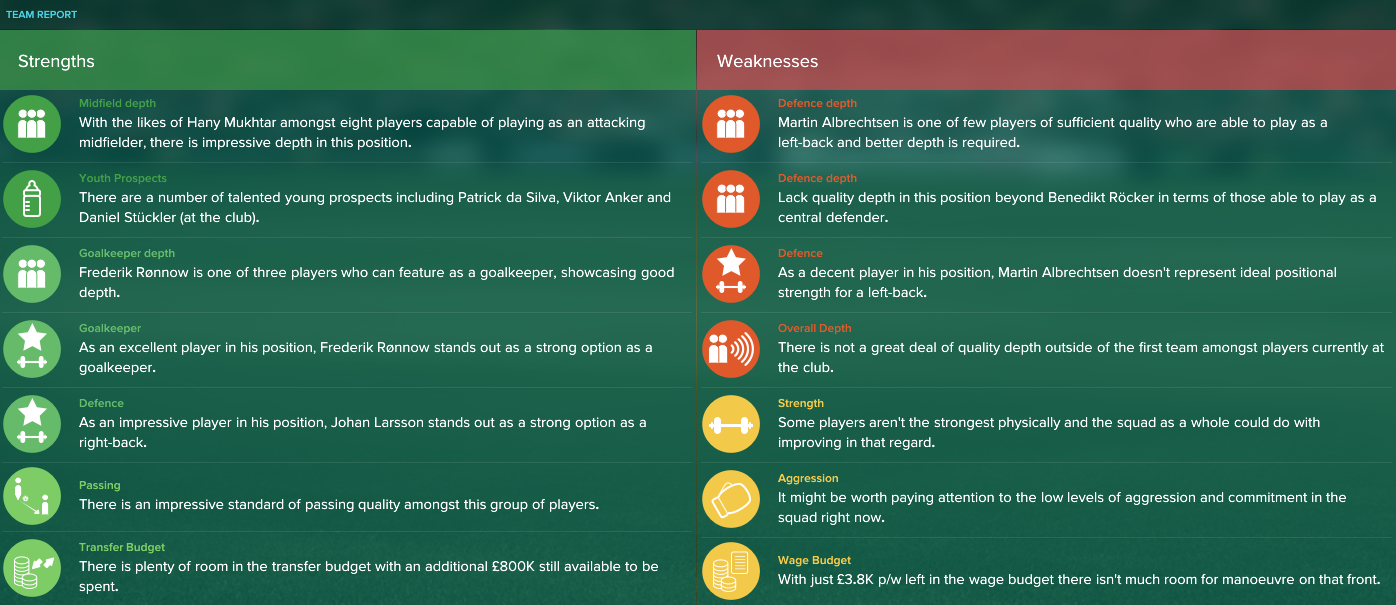 The team report is always useful. I'm pleased to see that the coaches think we could play a strong passing game if we wanted to, and they are particularly high on goalkeeper Frederik Rønnow. However, as I thought, we're particularly short at left back, and this is my first area of concern. I also believe we could use one more defensive midfielder, possibly as a half back, for the tactic that I have in mind.
I could go in to full detail on every player, but for the sake of the save and your sanity I'll keep it to a select few that I hope will be the foundation for years to come.
Frederik Rønnow will be our first choice goalkeeper. At 23, he's certainly someone with a long term future with me, provided we can compete of course! He looks to be a good shot stopper, with good reflexes and one-on-one attributes.  He also has solid base mental attributes which will grow as he ages. My concern is that Danish keepers tend to end up in the Premier League, and at such a young age and potentially the next Danish No1, Frederik will be a struggle to keep hold of.
Benedikt Röcker is an excellent choice at centre back. The 26 year old German defender has only recently joined Brøndby from Greuther Fürth for £250k, and looks to be the pick of the bunch. With decent technical stats, and impressive physicals (and being nearly 2 metres tall!), he looks to be a stopper in the making. That jumping and heading combination could be useful from corners…
Skipper Thomas Kahlenberg is revered by the Brøndby fans
At right back we have Swedish international Johan Larsson as first choice. Larsson has been at the club for two years, making 48 league appearances and scoring 6 goals. A tidy all round player, I particularly like the look of his work rate and teamwork attributes as these will be important for my full back role.
Skipper Thomas Kahlenberg will be at the heart of the midfield. The veteran Danish international will be useful both on the pitch and off the field tutoring the youngsters. Kahlenberg is a Bröndby Icon, but sadly he's out injured for 3 months with a hip injury. Easily a first choice midfielder, he'll bring vital experience from his time with Auxerre and Wolfsburg. He'll be used in a playmaking role, as per the coaches reports.
One exciting young player is winger Andrew Hjulsager. The Danish U21 international has already amassed 16 U21 caps, and definitely has a future at the top. He needs to work on his finishing and crossing, but there's a lot of potential here with this lad. He's played 61 times for Brøndby already, picking up 9 goals. Impressive for someone as young as him.
In attacking midfield we have on loan German playmaker Hany Mukhtar. The 21 year old joins us for the  year on loan from Benfica, and will get plenty of game time here. It's a shame that our finances won't be good enough to try secure his services next season permanently, but we'll get what we can out of him for this season. This lad really could be a star in the making.
Youngster Andrew Hjulsager is impressing fans despite his young age
The main man upfront for us is Finnish striker Teemu Pukki. An established international, Pukki should fit in to my ideal striker role of dropping deep to help build the attack. He's got a strike rate of almost 1 in 3 over the course of 2 seasons – whilst it's not amazing, it proves that he will get us goals this year. Fellow striker Kamil Wilczek will push him hard for the first team spot though!
These lads will provide the backbone of the early years of this save, but players will obviously come and go. I will provide details of the youth players that get promoted as and when they do.
So that's it for this (long awaited) review of the current squad. I've actually played two months of the season already, so to get everything up to date my next post will be on July and August 2016 (about time right?!). Thanks for reading the blog during the downtime, and I hope that you guys continue to stick around for the ride!
Until then, pas på dig selv!