Welcome to the second instalment of my Sleeping Giants series! My first post on Pro Vercelli got such a great reception, so a huge thank you to everyone that retweeted, shared, read and commented on the blog. The support is incredible and I'm really taken aback by it all.
Anyway, to business! This week, we take a look at a football club based in Germany that was a big force prior to the fall of the Berlin Wall. Hansa Rostock are a team that have appeared in the Bundesliga many times, but the recent years have taken their toll.
Hansa Rostock – A History
The club now known as Hansa Rostock were formed in 1954 as a multi sport club known as Sportclub Empor Rostock. The story of the formation of the first squad is a bizarre one.
Rostock is based in north east Germany in the state of Mecklenburg-Vorpommern, and is situated next to the Baltic Sea. The newly formed football squad found it difficult to attract and recruit players. As a result of this, a transfer of the squad from another East German team – BSG Empor Lauter – was put before members of the club. Lauter is based in south east Germany, near the Czech border, and already boasted a number of strong teams in East German football. Despite protests from the fans, a politician ruled that the Empor Lauter team should move to Rostock! BSG Empor Lauter ceased to exist, but were reformed in 1956 under the name BSG Motor Lauter. From my research, this team also included former Nazi soldiers.
With the move to Rostock complete, SC Empor Rostock were entered in to the first division in November 1954. The following year, the club finished 2nd, and this set the tone of things to come. Between 1955 and 1968, the club finished runners up 5 times, whilst also finishing runners up in the FDGB-Pokal (The East German Cup) 4 times.
During this time, the team changed it's name from SC Empor Rostock to FC Hansa Rostock, paying homage to Rostock being a major trading city in the merchant industry as part of the Hanseatic League. The name change allowed the club to become independent, and were bestowed with the honour of being one of the top 11 clubs in East Germany to bring through youth players for the national team.
Finally – After a long wait, Rostock finally became East German Champions in 1990-1991, the last season of the competition
Towards the end of the 1970's, Rostock had been relegated to the second division in East German football on three separate occasions. Despite this. a number of the Rostock players formed a core of the East Germany side that won bronze at the 1972 Summer Olympics in Munich. The club managed to return to the top flight of East German football in the 1980's.
By 1990, the Berlin Wall had fallen, reunifying East and West Germany. 1990-1991 was the final year of East German football, and Rostock finally had their moment. Not only did they win the NOFV-Oberliga title for the first (and only) time in their history, they also won the final FDGB-Pokal by beating Stahl Eisenhüttenstadt by 1 goal to nil.
Hansa Rostock still have a devoted fan base
The NOFV-Oberliga championship win was timely, as the club was placed in the new look 1.Bundesliga alongside Dynamo Dresden. Unfortunately, Rostock were relegated by 1 point. The club spent 3 years in the wilderness, but eventually returned to the 1.Bundesliga by winning the 1994-1995 2.Bundesliga by 2 points from St Pauli. For 10 seasons Rostock remained in Germany's top division, finishing 6th twice and were the only former East German team in the division. However, the club could not compete with it's western counterparts due to the weather conditions and being unable to bring through young talent as these players would be scouted by the bigger German clubs. Despite boasting players such as Oliver Neuville and Stefan Beinlich,  Rostock's had to sell their best players in order to survive.
In the 2004-2005 season, the club was relegated after finishing 17th. Despite returning to the 1.Bundesliga for one season in 2007-2008, the club found it's fortunes fading, and were relegated from the 2.Bundesliga in 2009-10. The club has remained in the 3rd tier of German football almost ever since.
In The Game
You'll find Hansa Rostock in the 3.Fußbal-Liga inside Football Manager 2017. If you take on the reigns as manager, you'll find yourself with a team stuck in mid-table limbo. Rostock are expected to finish 10th in the league this year, but with odds of 19-1 compared to favourites SC Paderborn's 7-2, you're not too far off from making a title challenge.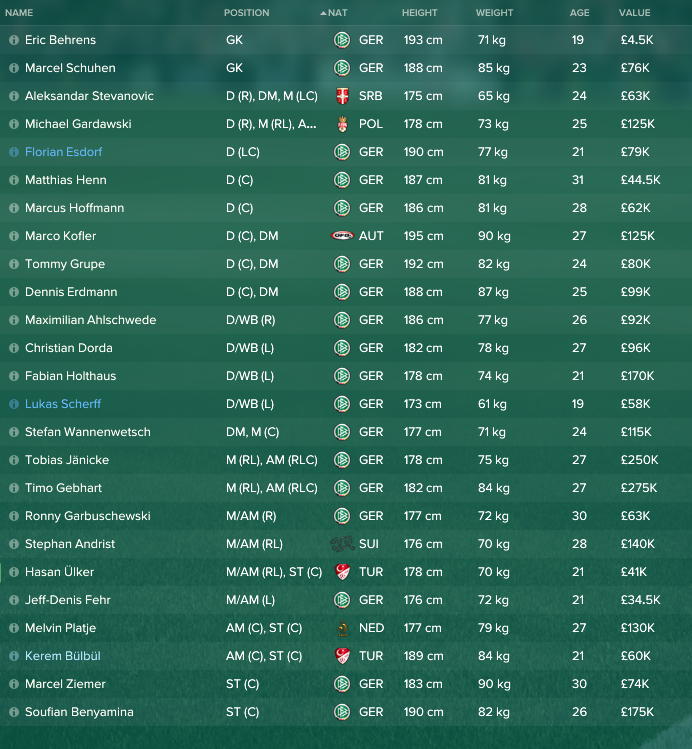 The starting squad has a nice mix of youth and experience to it, so for any manager thinking of trying to be a young and energetic team you have a great base to build upon. What I like is that there's a nice German contingent (as expected), but a nice sprinkling of foreigners to keep things interesting. My main thought is that you've got a lot of players in defence, and plenty of depth out wide along with decent forward options, but there is very little in the way of central midfielders. The coaches report suggests that the coaches think there are no playmaking options – maybe this is your first port of call. You also have 2 goalkeepers – one that is particularly young – so the right man between the sticks is also needed.
Arguably the best and most well known player in the squad is midfielder Timo Gebhart. At 27 years old, he can be the man you build your Rostock side around in the early part of your save. The former 1860 Munich and Stuttgart player could also be sold for a reasonable price, allowing you to rebuild the team how you see fit. Competing with Gebhart for a position on the right wing is Tobias Janicke, whom has played for Rostock almost 200 times across 2 spells with the club. Up front, striker Soufian Benyamina could lead the line effectively, provided you have the right service and quality around him. Young full back Fabian Holthaus also boats a fair amount of potential.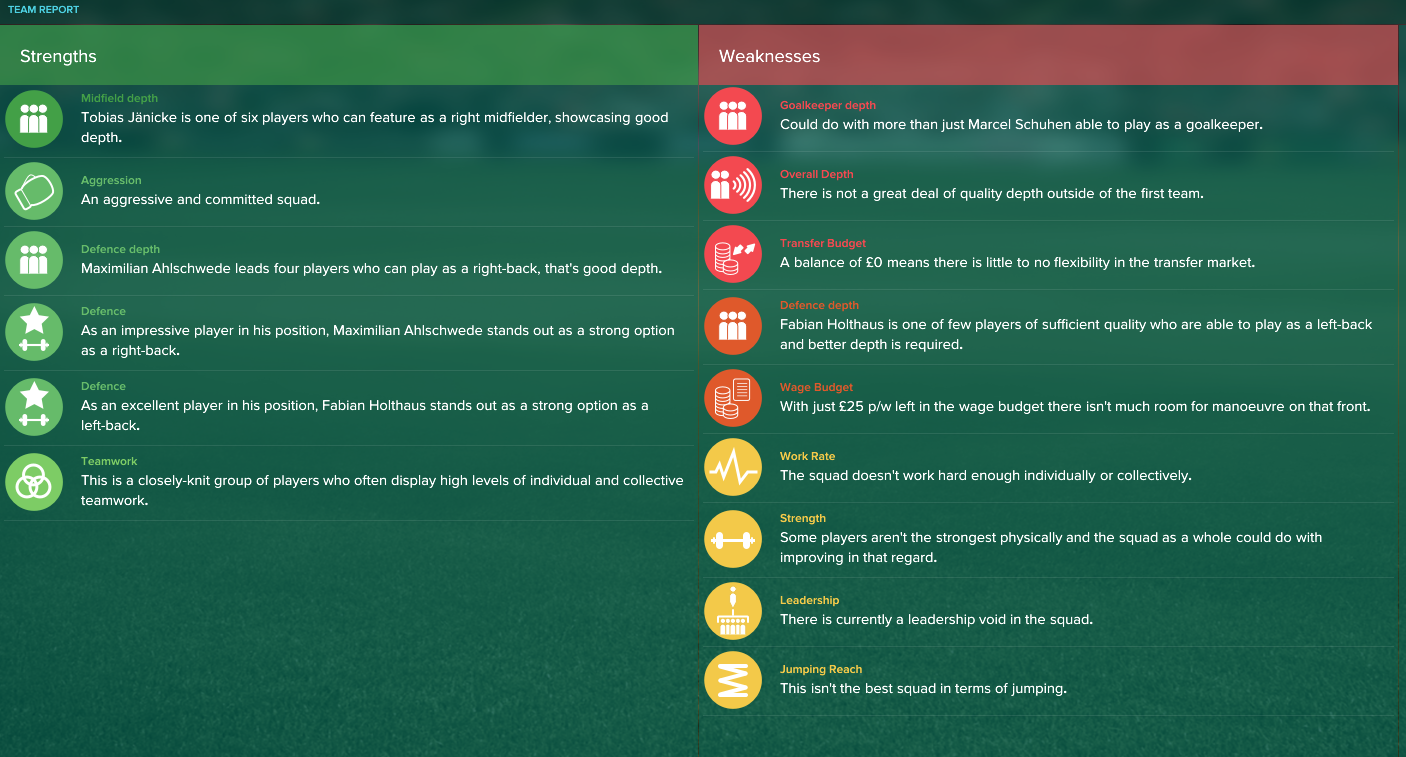 The coaches aren't particularly kind with their evaluation of the squad. It seems that you've got a lot of depth on the right flank, especially with Gebhart and Janicke. Six players in MR/AMR and four players at DR/WBR might be a bit overkill, but this just allows you to potentially make some transfer budget by selling off a couple of rotation options. You've also got a tight-knight, committed and aggressive team, which is by no means a bad thing. Just be careful if you want to play a high pressing and aggressive style as you might find one or two red cards creeping in to your season.
The coaches make no secret about the lack of leadership though, despite the closeness of the team. You've therefore got to find the right man to come in and lead the team, or careful promote within to not upset the apple cart. And although your team are committed, they don't appear to work very hard too – perhaps the pressing game might not be an option? What this suggests is that Rostock's squad have no identity, no set playing style, and with their history are a perfect platform for you to create your own legacy.
The finances are…well…rubbish. You've got no transfer budget and only £36k wages, which is all currently being spent. It looks like you're gonna have to sell some players in order to get your own ones in, and be shrewd with loan signings and free agents. The board have given you no philosophies to abide by, allowing you to freely sign whomever you can get to fit your system.

Comparisons with the rest of the league aren't idea. You've got lower valued players compared to the average, and also a much lower than average player wage which doesn't provide much attraction to prospective signings. Despite the club history, East Germany still isn't particularly affluent all around, and Rostock have had finance problems since the mid 90s. You've also got an slight older, shorter but heavier team. This suggests a lack of fitness in the team – get the lads on a diet now!
Final Thoughts
Given the glitz and the glamour of teams like Bayern Munich and Borussia Dortmund from the west side of Germany, it's easy to forget that East Germany used to have it's own footballing heavyweights. With the Berlin Wall demolition long gone, the East Germans could use a team to get behind, and the rise of another German powerhouse would really shake up the domestic game. From comparatively nothing, this potential rags-to-riches game really has some longevity to it, if you plan on sticking around. There's money to be made in Germany too, so get stuck in to this save and see if you can add to that sole title win of 1991.
Once again, thank you for reading this blog entry. I appreciate every single view that my blog receives. I hope you enjoyed the tale of Hansa Rostock and their current situation. For my next instalment of Sleeping Giants, we shall be taking a trip to sunnier climbs, by visiting northern Spain and the tale of Racing Club de Santander!