The Financials
Finance is overlooked in real life football. To the casual fan, finance in the beautiful game generally means "transfer fees". True – the richer the club, the higher the transfer fees they can afford. However, finances in football are more than just "transfer fees". There's profits to be realised, wages to be controlled, sponsorships to be generated and shareholders to please. The introduction of the Financial Fair Play regulations (FFP), whilst may not have originally worked, have imposed the importance of running a club on a sustainable basis to ensure that the market does not get out of hand,  and to not neglect other areas of the club.
In recent years we've seen the game become something of a "toy" for the world's richest businessmen and consortiums, with billions pumped in to clubs in the endless pursuit of glory. The likes of Abramovich, Sheikh Mansour and the Qatar Investment Authority have changed the landscape of football, but this doesn't always guarantee success (see FC Anzhi Makhachkala).
Money makes the footballing world go round
FM is very limited in what you can do with finances – you can't micromanage too much. Small changes such as setting your own ticket prices (which you can't do without an editor, of course) may sound like an interesting ideas, but in reality may confuse FM players and require too much busywork.
What you can do, however, is have an impact on the number of supporters you get in through the turnstiles each week, the prize money and TV revenues you receive, negotiate transfer and wage packages, increase budgets for staff and junior coaching and invest in training facilities. This might sound like a lot, but these things do have to be thought through, and your board won't just give in to your demands without any success to back your case up.
As I mentioned in my previous post, I want Brondby to turn in to a real community club. To do this, I have to make the club sustainable economically (and socially and environmentally, but I'm not sure how you can do either of these in game). To do this, I must ensure that budgets are tightly controlled, wages are kept to a reasonable level and transfer dealings do not have too many sub-clauses that will come back to bite us in future seasons. I hope to turn a profit each season, but I understand that the likelihood of this is small.
Anyway, enough jibberjabber. Time to look at what we're dealing with: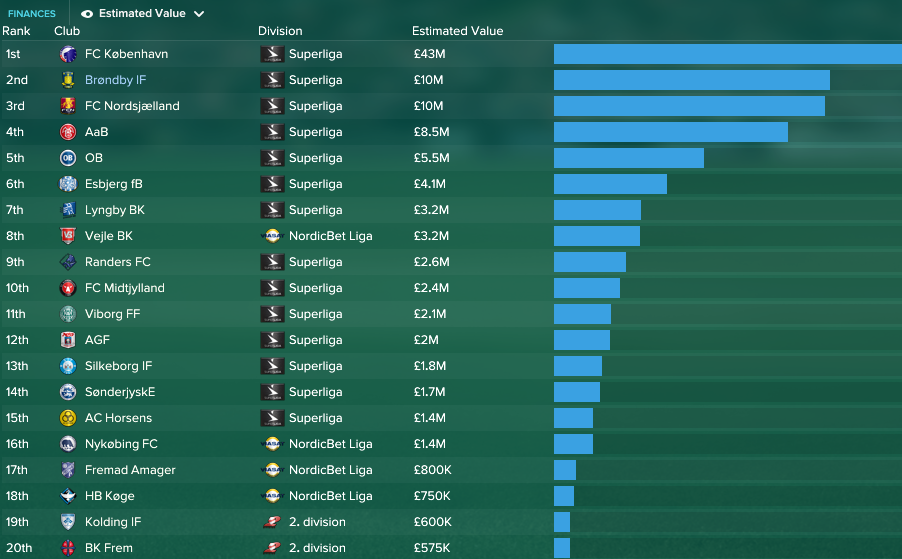 The 2nd most valuable club in Denmark, but some way to go and catch up with Copenhagen
Initial finances on first loading the game up are "OK". We've got £2m in the bank (I'll be using £sterling as my currency in game). Not a great deal, granted, but it will suffice. Income and expenditure is irrelevant to talk about now as nothing has happened, but I'll look to revisit my finances on a season by season basis to review how we've compared to the prior year, and as an aid of financial control. Average season tickets are £127 for the year, and average ticket price is £13. This seems really cheap to me, but I can't increase these prices at all. I wouldn't want to either, as it's more important for the club to be accessible to the fans.
The initial budgets set by the board don't look like anything special, but for Danish football we're probably fairly well off. The board have given me an initial £800k transfer budget, to be supported with a total wage budget of £120k. My first thoughts were "this isn't a great deal", but compared to most of our competitors we're rolling in it. We're currently spending £113k of the wage budget on our current squad, so I'll look to get this down before I try and sign my own players. One important thing to note is that Danish and Scandinavian players may request lower wages compared to their international counterparts, so by fulfilling my idea of keeping the squad predominantly Scandinavian may help the budget side of my save.
Speaking of the players, here's the current wage structure. Skipper Thomas Kahlenberg is the highest earner at £8,750 p/w, and at 31 he's still got a few years left in him. £9,900 p/w is currently being spent on 2 loan players. I'm a bit dubious about midfielder Ariel Nunez – he's valued at £75,000 but earning £6,250 per week. Not sure that is value for money. If I can start bringing through a few youth players to replace the elder statements, this should go a long way to reducing the wage expenditure at the club.
We have a few sponsorships already in place, generating the club £5.77m this season. For the footballing side of things, I doubt we'll see too much of this as it will largely go on running the club. The main sponsorship ends in summer 2017, so the chance to generate more income from a bigger sponsor is there.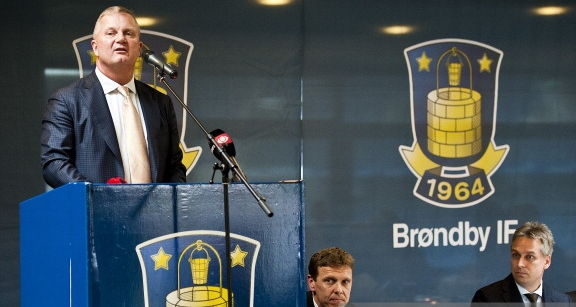 Performances on the pitch have got to keep the shareholders and board of directors happy
Annoyingly though, we've got a bank loan, sapping £1.428m out of the club each season until 2020. The loan has been going two years already, which is fine. It's not the end of the world but those extra funds could go a long way. Imagine if that was added to our transfer or wage budget – we'd be laughing all the way to the bank!  I'm not sure if you can have loans such as this paid off earlier – let me know in the comments if you can.
Projections for the next three years don't look great either. We're looking at a £2.08m loss in year 1, rising to £4.52m the following year. Remember that this is the very start of the game, so prize income, transfer fees etc, haven't come in to play yet. The bank balance dropping to £4.8m overdrawn is worrying me. It may come to needing more loan finance to help pay the squad off, or the chairman injecting some funds in to the club. I don't want this, so it's important that the team plays well and generates fan interest along with trophies/prize money to help reduce this deficit.
We are the second most valuable club in Denmark, so don't discount the importance of this brand value. Players and fans are attracted to Brondby and it's famous yellow shirt in Denmark, but we are little known outside of the country. European football will really help us out with it's TV revenues and prize money, so this really is the key to economic sustainability. If we can get the right personnel onboard to help us with getting European football at the right price, then we should see a profit being turned on year in, year out.
The Facilities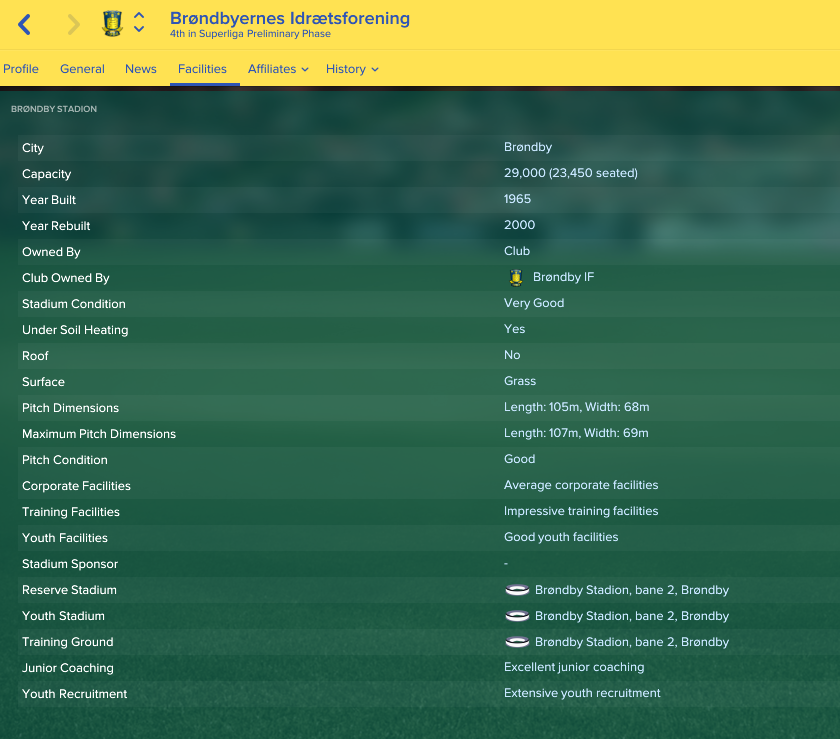 I'm very impressed with the facilities that we have available at Brondby. We play at the wonderful Brondby Stadion, which seats 29,000 football fans. We're equipped with undersoil heating too, a requirement for European football I believe? Regardless, it will help us with fixture congestion as we shouldn't have games called off at home.
The best thing about our facilities are the youth and training set up. As I mentioned before, I want to really develop youth players at Brondby, introducing them to the first team and really inspiring the local kids to make it. Although they are good, they could be improved, and that's the key area that I want our profits to go in to.
So that's everything for now! Sorry for perhaps a slightly more boring post, but the finances are really key to success in this save. Next up for my Brondby journey is to evaluate the squad!
<Author's note – thanks for all your support on the last couple of posts. Really means a lot that you are enjoying the blogs, and I will do my best to keep the quality up>