Everyone loves the tale of a fallen or "sleeping" giant – a team from yesteryear that has fallen on hard times and now languishes below the top flight in their domestic league. Fans of these clubs will long to tell their stories of the glory days of winning league and cup titles, amazing goals and emphatic victories just to relive that feeling we all get as football fans seeing our team win.
Many games on Football Manager – mine included – are devoted to the restoration of these teams. A lot of these sides really helped shape the game that we all love today. Through creating new styles of play to having one-of-a-kind players, each club has it's own story to tell and contribution to association soccer. I always find that researching a club really helps drive a save, and also helps create a real life connection between the you and the club! I know I've started following teams around the globe just because of a video game.
I felt compelled to start a little series of blogs regarding the story of these teams, where they have come from and where they are now. Who were their star players? Were they affected by financial ruin? Any famous fans? All these little intricacies add something to a new story; your FM story and the history that you will then create!
We are gonna start with Pro Vercelli, a little known Italian team that paved the way for great things in the south of Europe.
Pro Vercelli – A History
The origins of the club known as U.S. Pro Vercelli can be traced back as far as 1892, making the original club one of the oldest teams in Italy. This was the year that the "Società Ginnastica Pro Vercelli" – or the Pro Vercelli Gym Society – was founded. Football was introduced just after the turn of the 20th century, with the first official Pro Vercelli match taking place in 1903.
In 1907, Pro Vercelli won a league called the "Subs Division". Known then as the "White Shirts", the club were entered in to the Italian National League as a result of winning this league. Success followed immediately – Vercelli won the National League in both 1908 and 1909.
A winning formula had been identified. Despite losing the 1910 league final to Internazionale after a dispute with the Italian Football Federation (IFF), through the affectionately named "Midfield Line of Wonders" consisting of Ara, Milano and Leone, Vercelli went unbeaten for the next three seasons. A remarkable achievement in any league at any time. Now known as the "Leoni", no one could stop their march.
The legendary Leoni – the early years saw incredible success for Pro Vercelli
A number of the Vercelli players at this time formed the first Italy international squads. Up to 9 players were chosen to represent their country. The club were the pride of Italy, but they became known for their rough style of play on occasion. But they were winners, and won at any cost.
World War I intervened, suspending Italian football until it was over. In the second season after the War, Vercelli picked up their 6th league title in 20 seasons, defeating Pisa 2-1 in the final game of the season.
The following season, Italian football was rocked by the split of the IFF. Vercelli joining the Italian Football Confederation. Winning the inaugural season, this 7th title was to be their last major national title. It was here that Leoni were rocked. In the following seasons they would always come close, but not close enough, to winning the National League. Vercelli had established themselves a force for almost 2 decades, but the dominance had been broken by clubs like Internazionale and Genoa. A natural decline was approaching. Even legendary striker Silvio Piola could not prevent the club from falling from grace.
In 1935, the club was relegated to Serie B for the first time in their history.
By 1941, they had been relegated to Serie C for the first time.
There is not much more history until recent years. The club became a mainstay in the Serie B/Serie C/Serie D shuffle. As more money has come in to the game, the club has found themselves fall further and further behind. Gone were the days of the Line of Wonders. Vercelli were forgotten.
Legendary striker Silvio Piola played 127 times for Pro Vercelli in 5 seasons, scoring 51 goals
The new millennium saw Vercelli face a new challenge at a more local level. A new team – A.S. Pro Belvedere Vercelli – were founded as a merger of two smaller clubs, and began playing in Serie D. This new Vercelli side made reasonable progress, and the 2009/10 season featured the first ever Vercelli Derby with decorated U.S. Pro Vercelli, finishing 1-0 to the U.S. club.
Financial issues saw the U.S Pro Vercelli not admitted to the following Lega Pro Seconda Divisione season. After much deliberation, it was decided the that U.S. Pro Vercelli, the club that had dominated much of the early landscape of Italian football, would fold. However, A.S. Pro Belvedere Vercelli would change their name to U.S. Vercelli Calcio, and acquired all of the trademarks and honours from the original club. Club colours were changed, and it meant that the club could live on through this new entity.
The white shirt lives on…
The club has since reached Serie B twice in the 2010's, and it is in Serie B that you will find them at the start of Football Manager 2017.
In The Game
Not expected to do anything special, Pro Vercelli are expected to finish 17th in the 2017/2018 Serie B. At 1000-1, it's gonna take something special to get them back in to the top flight since 1935. These odds put them joint favourites for relegation, but with 5 teams below them according to the media, a relegation battle should be at the forefront of your mind.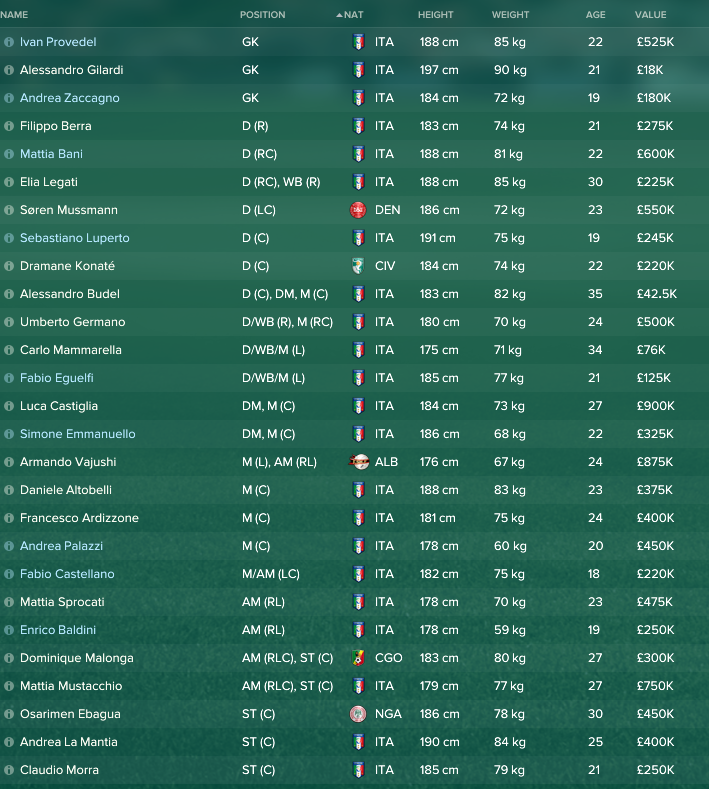 Your starting squad isn't too bad in terms of depth. There's plenty of competition in each area of the field, but with 27 players in the first team squad you might find that some players will be angry with a lack of playing time. One thing to consider are the number loans at the club – 9 players are only with you for one year, so make sure you've got a back up plan if you intend to stick around.
In terms of notable players, Ivan Provedel looks to be a good young goalkeeper on loan from Chievo, and Sebastiano Luperto looks to be a very useful young defender on loan from Napoli. Perhaps the biggest name in the team is 27 year old midfielder Luca Castiglia, whom broke through at Juventus. You also have some international experience in the form of wide man Armando Vajushi.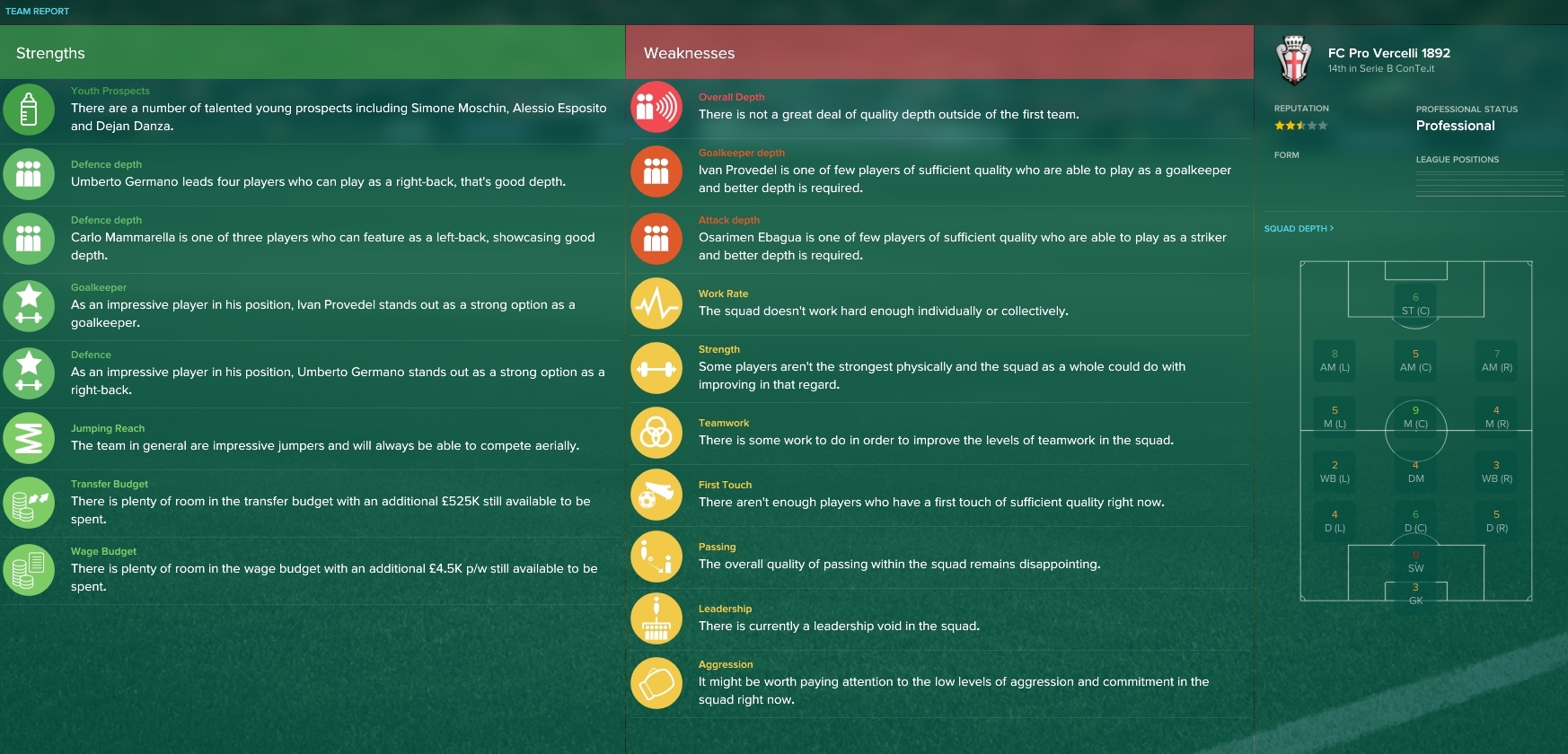 The coaches are pretty scathing about the squad, stating that they are a lazy bunch and need a bit of help in both the physical and technical side of the game. They aren't asking for much then are they?! You also have no real leadership, something that you should look at rectifying straight away.
Finances are OK. There's no debt lingering over the club, so provided you keep things under control you should find that your budgets should start to expand. You've got £525k transfer budget to start with, and £71k total wage budget. Do you try and buy just one player, or convert it all to wages and go for a few freebies? There are no philosophies hanging over your head (unless you choose them), so you are free to build the squad how you choose.

Comparisons with the rest of Serie B are quite interesting. Pro Vercelli have a fairly young squad with an average age of 23.81, but this is helped with the vast number of young players on loan at the club. Vercelli also have a much taller than average side clocking in at an impressive 183cm. You do have the lowest average player wage in the league, so be prepared for star players to want to leave unless you can match their wage demands.
Final Thoughts
The new Pro Vercelli are a tantalising option for any manager. The potential to grow the club and progress in to Serie A and beyond is enormous, and there is history to back you up. You've got an easy ride to start with as there's little expectation for Vercelli to do anything. There's flexibility to build the squad and playstyle however you like, but funds are limited, so you'll need to pull off some shrewd business if you want to perform better than a relegation scrap. That being said, the chance to echo the early 1900's is completely achievable! Make that white shirt iconic again!
I hope that you enjoyed this first entry in to this new blog series on fallen/sleeping giants in Football Manager. I'm looking to post a new entry every week, looking at the story of the club and their current position in world football. If you have any clubs that you want me to have a look at, feel free to Tweet me with your suggestions.
Next week, we'll turn our attention to Germany, and look at the story of Hansa Rostock!