Identity and Ethos
With a sleeping giant such as Brondby, I find it's important to re-establish with a new identity to bring them in to the modern game. The easiest way to do this by bringing a new direction and style to the field of play, but it's about more than just what the team does on the pitch. It's also about the development of players, the attitudes towards officials, the sponsorship deals, the local environment and more.
The identity of a club is important – it's what separates your team from the rest, and why you support the club that you do. Brondby were a club that have prided themselves on bringing players through the ranks to play in the first team to lead the club to glory, but recent seasons have seen the club lose ground on it's rivals. This ethos is admirable but idealistic. Let's not kid ourselves – football is a business and exists to make money. To do this, a team needs to achieve and maintain it's success over the long term. However, this often comes with a price of alienating it's fanbase by putting up ticket prices, playing dull football with little enthusiasm, and sometimes even the most loyal of fans will think – "is it worth my time to the game and watch this rubbish?"
Time to get the BrondbyStadion filled to capacity with loyal, local fans
What I would like to do with Brondby is to make the club feel like a club that still belongs to it's fans, rather than a corporate entity. I want the players to be angry and hurt after each loss, yet triumphant and boisterous in victory. I want the local community to not feel like they've wasted their money coming to watch us play. I want the kids that come to our games to aspire to become the next Michael Laudrup, Peter Schmeichel and Lars Olsen by having our players act properly on the field, minimising the need for discipline. The yellow shirt should mean something to all football fans around Europe.
My new board, and chairman, seem to share similar vision.

This is all fine by me. Youth, youth and more youth is always a good philosophy to have in FM. We have an excellent academy at Brondby to develop our own talent. But I want to take it a stage further.
To really try and build the chairman's vision for club identity and connect with the fans, I want to also try and abide by the following
To try to include at least 7 Danish players in every starting line up.
To try to include at least 2 Brondby academy graduates in every match day squad.
To try and give debuts to at least 4 academy graduates each season
To run the club at a profit and keep finances under control.
There will also be a preference to sign Scandinavian players for the club, but I won't limit myself to just players from this area.
Given the limitations of the game, this is all I can think of, but feel free to provide suggestions of additional criteria to meet. I think that the above is achievable. We've got some great young players in the U19's such as midfielder Karl Appelt that could easily make it in the first team. A few more with his potential, and this vision could really come to life.
Philosophy
As the old saying goes, the best defence is a good offence. That's true – the best teams normally achieve success by being better at attacking than defending. Attacking football is always an attractive proposition as no one wants to waste their money on a dull 0-0 draw.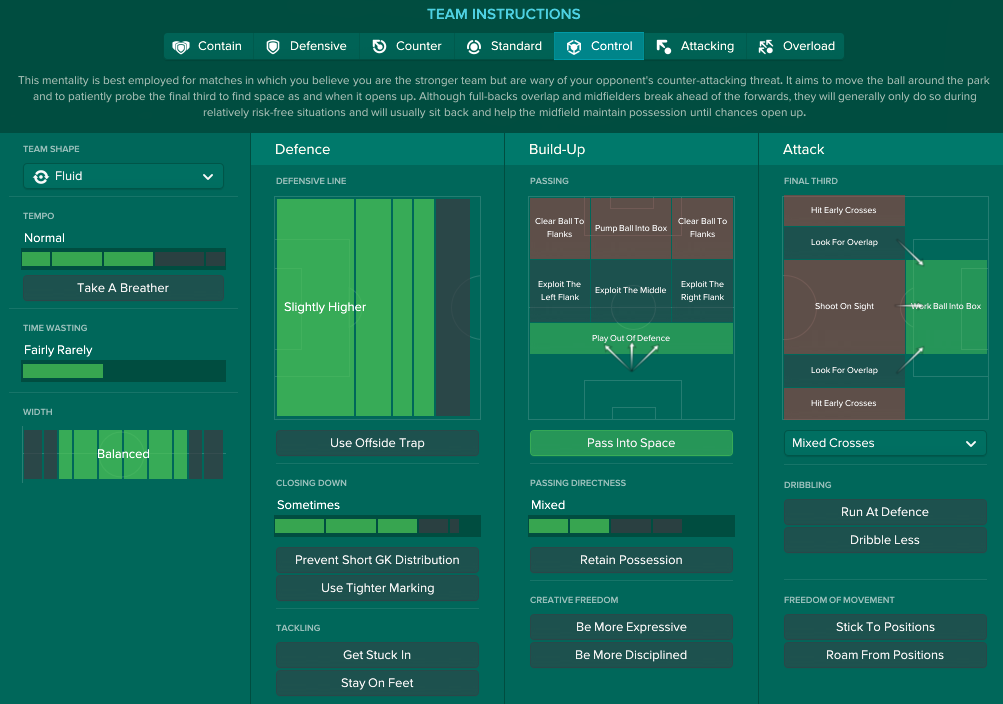 Here is my initial thoughts with regards to team instructions. This mentality should apply to all formations that we adopt during the course of a season (yet to be decided, but philosophy is more important than formation at this stage).
A fluid, control style will be our starting point. The idea is that I want the team to play with some risk, but not to over commit going forward. I want the team to play with creative freedom, so have tried not cloud the team with too many instructions. It may be a bit risky playing with a high defensive line and passing in to space, but you will where this hopefully comes in to play later on.
This is all experimental and hypothetical at the moment though – I may look back at this post in 2 months time and laugh! But it's my current thought process at the moment and it should evolve throughout the save. Will it work? We'll just have to wait and see!
I hope you enjoyed this post on my vision for the club. Brondby really are a team that need to be up there with the best of them. My next post will take a look at the facilities at Brondby, along with budgets and financials.